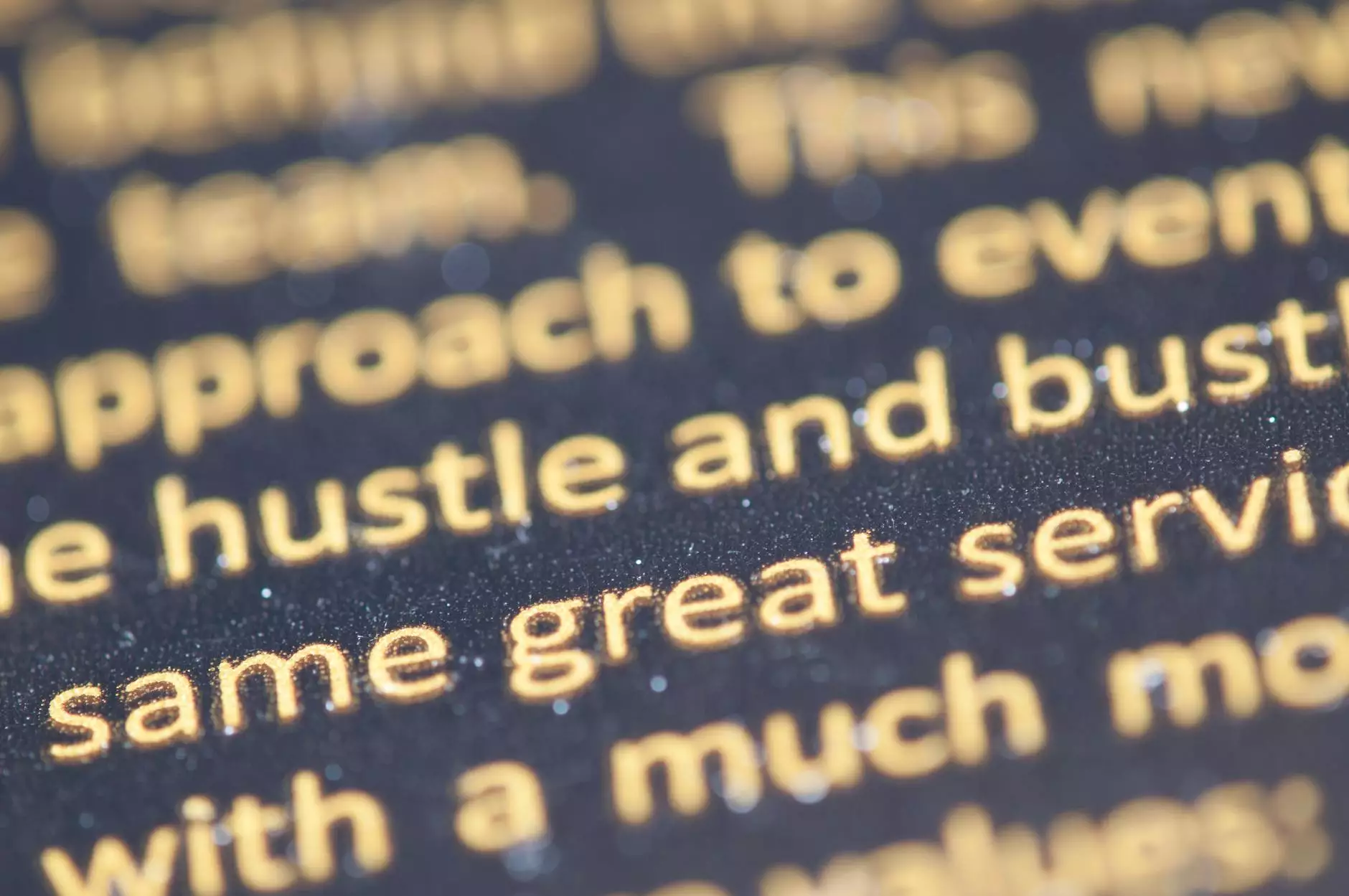 The Importance of Choosing the Right Fonts for Your Website
In the vast digital landscape, where websites abound, it is crucial to ensure that your website not only looks visually appealing but also delivers a great user experience. One of the key factors that can greatly impact the user experience is the choice of fonts.
At Ignite Security Marketing, a leading provider of website development services in the Business and Consumer Services industry, we place great emphasis on font selection and understand the detrimental effects that certain fonts can have on your website's overall impression and credibility.
The Culprits: Papyrus, Comic Sans, and More
When it comes to fonts that are widely regarded as unprofessional or outdated, two notorious examples that often make the list are Papyrus and Comic Sans. These fonts have been overused to the point where they have become synonymous with poor design choices. Choosing these fonts can make your website appear amateurish and undermine your brand's credibility.
But it doesn't end there. There are several other fonts that should be avoided, including:
Jokerman: This font may seem fun and playful, but it is challenging to read and does not convey professionalism.
Curlz MT: While this font may be suitable for a children's party invitation, it is not ideal for a business website. It lacks the sophistication required for most brands.
Impact: While Impact may have its uses in specific contexts, such as headlines, it should be avoided for body text as it can be visually overwhelming.
Brush Script: This font mimics handwritten calligraphy, but its high level of embellishment can make it difficult to read, especially in smaller font sizes.
Mistral: Mistral may appear elegant, but its excessive slant and dramatic strokes make it challenging to read for extended periods, leading to a poor user experience.
The Impact of Bad Font Choices on User Experience
Choosing a bad font can have a significant impact on the user experience of your website. It can make the content harder to read, leading to frustration and eventual disengagement. If visitors struggle to decipher your content, they are more likely to leave your website and seek information elsewhere.
Moreover, fonts that are considered unprofessional or outdated can diminish the perceived credibility and trustworthiness of your brand. Users might assume that a brand that doesn't pay attention to details like font selection might also lack attention to other important aspects of their business.
Choosing the Right Fonts for your Website
Now that you understand the negative impact of bad font choices, it's time to explore the strategies for selecting the right fonts for your website:
Define your brand: Start by considering the personality and values of your brand. Are you aiming for a modern and sleek look or a more traditional and reliable appearance? Your font choice should align with your brand's identity.
Consider readability: Select fonts that are legible and easy to read across various devices and screen sizes. Pay attention to factors such as font size, spacing, and contrast.
Aim for versatility: Choose fonts that work well in different scenarios. This includes having a font that is suitable for headings, subheadings, and body text. Consistency in font usage allows for smooth visual hierarchy and enhances the overall readability.
Stay updated: Fonts, like design trends, evolve over time. Ensure that your chosen fonts are not outdated and still convey a contemporary feel. Keeping your website fresh and up to date is key to engaging your audience.
Seek professional guidance: If you are unsure of which fonts to choose, consider consulting with a professional website development company like Ignite Security Marketing. Our experts have extensive experience in creating visually appealing websites with fonts that align with your brand and provide a positive user experience.
Conclusion
Selecting the right fonts for your website is a critical step in building a strong online presence. Avoiding fonts like Papyrus, Comic Sans, Jokerman, Curlz MT, Impact, Brush Script, and Mistral is essential to ensure your website's credibility is upheld and your users have a pleasant experience.
At Ignite Security Marketing, we understand the nuances of font selection and its impact on user experience. Contact us today to enhance your website's design and effectively convey your brand's message through carefully chosen fonts that align with your business goals.