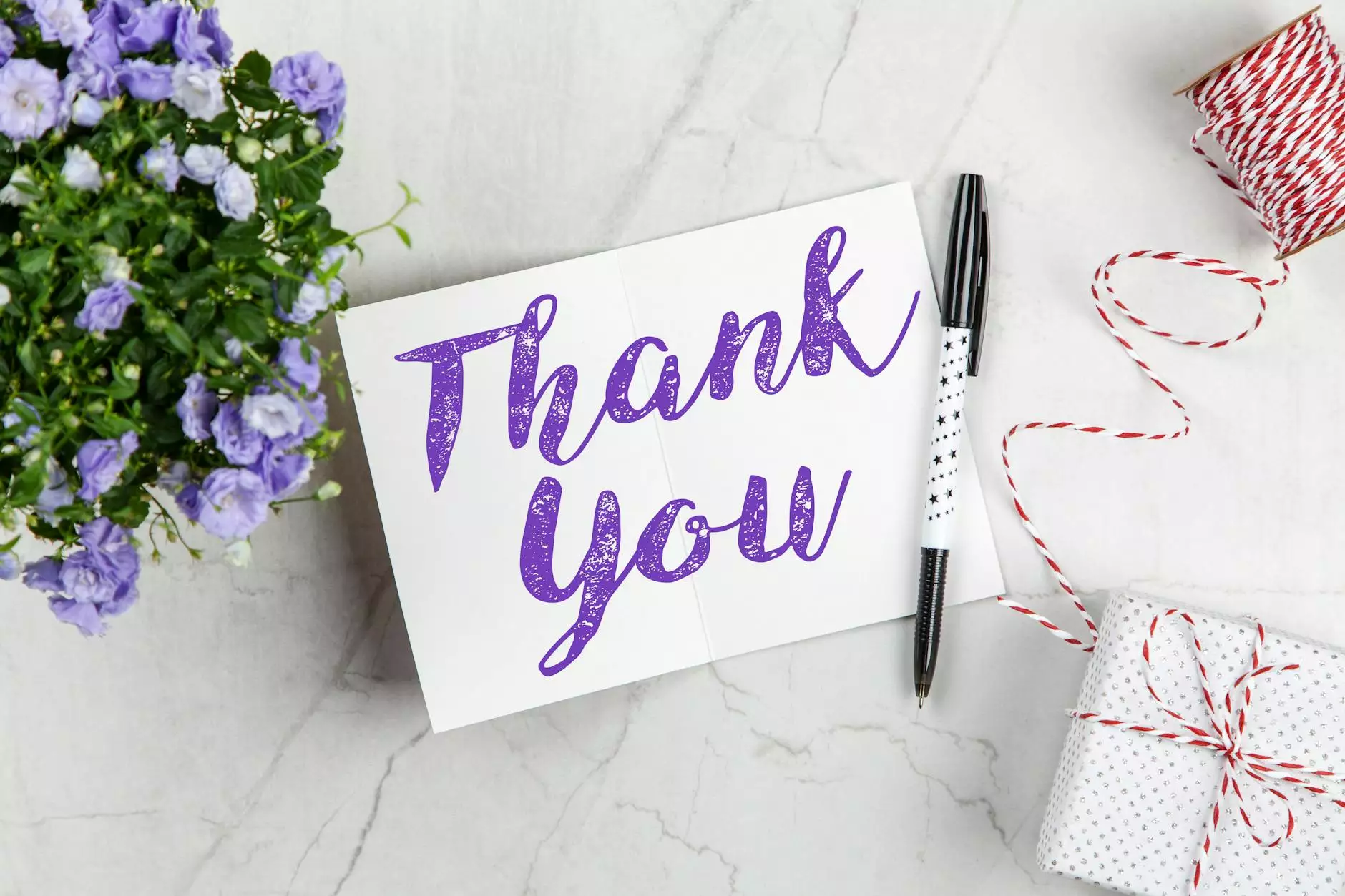 In the realm of business and consumer services, particularly in website development, there is a key practice that often gets overlooked - writing thank you notes to clients. At Ignite Security Marketing, we firmly believe that this seemingly simple act can have a significant impact on your business's success. In this article, we will explore the real-world benefits of writing thank you notes to clients and how it can enhance your relationship with them.
1. Cultivates Customer Loyalty
Expressing gratitude towards your clients by sending them personalized thank you notes cultivates a sense of loyalty. It shows that you value their business and are committed to building a long-term relationship. By acknowledging their support and trust in your services, you strengthen the bond between your business and the client, making them more likely to choose you over competitors in the future.
2. Enhances Customer Satisfaction
A well-written thank you note goes beyond a generic email or a quick phone call. It demonstrates your attention to detail and genuine appreciation for their business. When clients receive a thoughtful note, they feel acknowledged and valued, leading to increased satisfaction with your services. Satisfied customers are more likely to refer your business to others, generating positive word-of-mouth and potentially attracting new clients.
3. Differentiates Your Business
In a highly competitive industry like website development, finding ways to stand out from the crowd is essential. Writing thank you notes provides a unique touch that sets your business apart. This personal interaction creates a memorable experience for clients, making them more likely to remember and recommend your services to others. Standing out through personalized gestures can give you a competitive edge and help your business thrive.
4. Strengthens Business Relationships
Building strong relationships with clients is integral to success in the business and consumer services industry. One key aspect of relationship-building is showing appreciation for clients' support and trust. By taking the time to write thank you notes, you demonstrate your commitment to nurturing the partnership. This fosters a deeper connection, making clients feel valued and appreciated. Stronger relationships can lead to long-term collaborations, repeat business, and even potential partnerships in the future.
5. Boosts Brand Reputation
Customers appreciate businesses that go the extra mile to show gratitude. When you consistently write thank you notes to clients, it reflects positively on your brand's reputation. It showcases your professionalism, attention to detail, and commitment to excellent customer service. Positive experiences will be shared, and your reputation as a business that genuinely values its clients will grow. This can lead to an increased influx of inquiries and referrals, ultimately driving your business growth.
6. Provides Networking Opportunities
Writing thank you notes can also open up unexpected networking opportunities. When your clients receive a personalized note, they may be more inclined to refer you to their network or introduce you to potential partners within their industry. These connections can prove invaluable, as they can lead to collaborations, partnerships, or new business opportunities. By taking the time to show appreciation, you not only strengthen your relationship with the client but also expand your professional network.
Conclusion
Writing thank you notes to clients is a practice that should not be underestimated in the world of business and consumer services, particularly in website development. Ignite Security Marketing strongly advocates for this practice due to the numerous benefits it provides. Cultivating customer loyalty, enhancing satisfaction, differentiating your business, strengthening relationships, boosting brand reputation, and creating networking opportunities are just a few of the advantages. By incorporating thank you notes into your business strategy, you are not only expressing gratitude but also paving the way for long-term success.